---

---

Nova knjiga u ediciji "Analitica"
Jelena Gaković
DRUŠTVENA ARHITEKTONIKA DIGITALNOG DOBA

Nijaz Ibrulj
PORFIRIJEVO NASLJEĐE U BOSNI (2023)
Nijaz Ibrulj
ESSAYS ON THE LOGICAL

Nijaz Ibrulj
ANALITIČKA FILOZOFIJA
U izdanju ACADEMIA ANALITICA objavljena je nova knjiga dr. Tomislava Tadića pod nazivom ECCLESIA LEVIATHANA:Sociogeneza konvergentnih političkih religija. Knjiga spada u područje sociologije religije.
"Kolega Tadić kao hipotezu knjige postavlja tvrdnju: "da su u Bosni i Hercegovini na djelu konvergentni modeli politiĀke religije koji produciraju ono što se može identifcirati kao "anomijsko amnezijsko društvo" (Hervieu-Leger, 2000, Davie, 2005) Āija je krajnja konsekvenca nastanak "kulturnih trauma (Alexander, 2004), što rezultira dubinskom destrukcijom i permanentnim "oštećenjem kolektivnog identiteta" (Alexander, 2004). Sa ovom tezom, autor ulazi u područje razmatranja religije koje je do sada veoma rijetko tematizirano u literaturi. On pokazuje da su religijski stavovi, nasuprot dogmatskim zahtjevima, u Bosni i Hercegovini Āesto bili obraćani u feksibilna shvatanja socijalnih relacija, sa ciljem korektivnog djelovanja artikuliranog životnim zahtjevima. "
                                                                              (Iz recenzije prof.dr.Samir Arnautović).

Online promocija knjige
"Društvena fenomenologija opere"

---

---
Predstavljanje knjige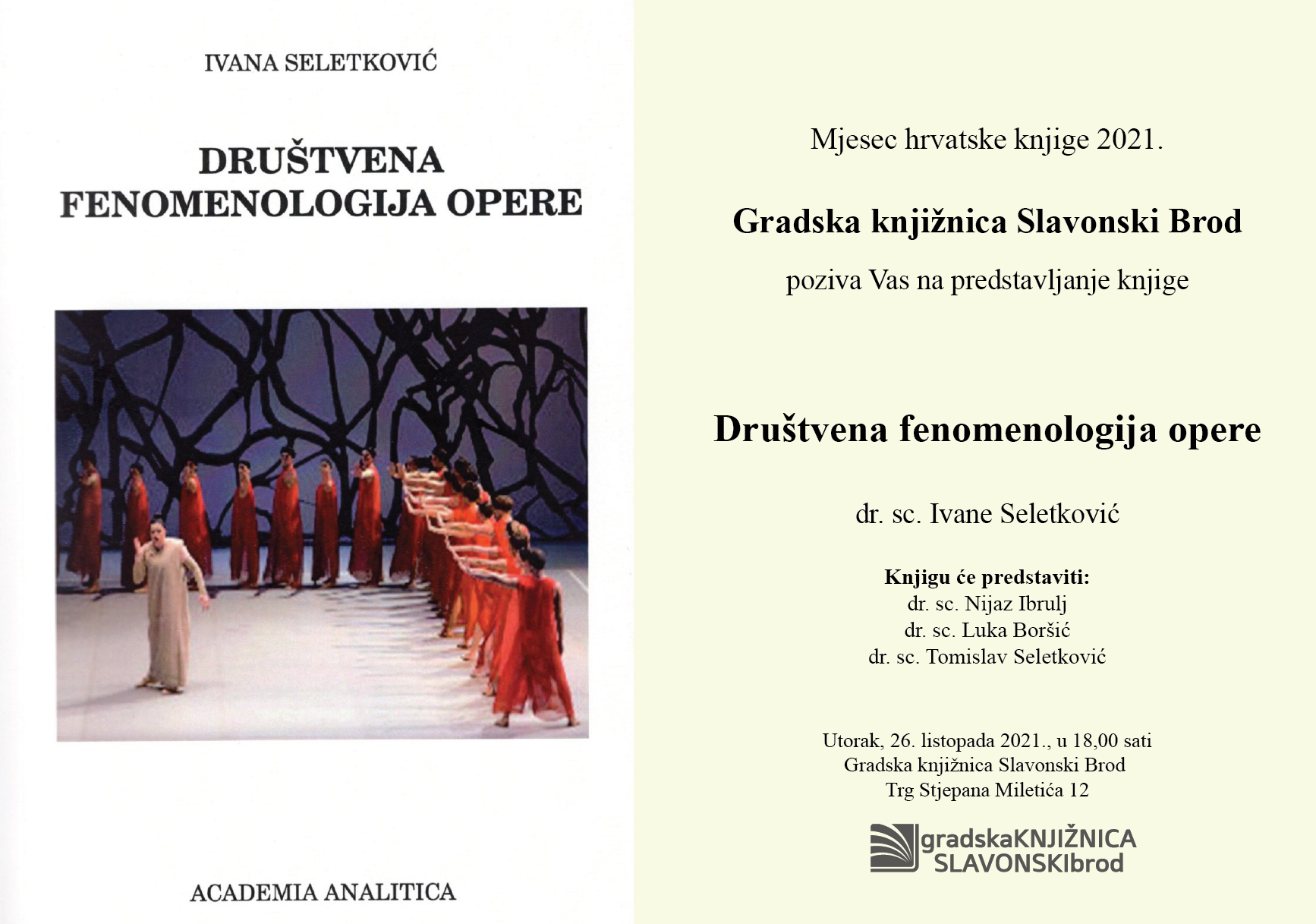 Early call to submit articles
The Logical Foresight Y.2022 / Vol.2 / No.1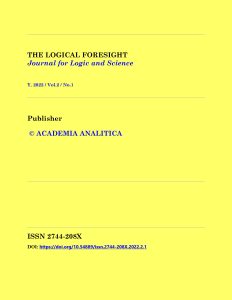 ---
Kenan Šljivo
INFERENCIJALIZAM I EPISTEMOLOGIJA
Spoznajnoteorijsko čitanje filozofije Roberta Brandoma
(Zagreb: Hrvatsko filozofsko društvo. Biblioteka: Filozofska istraživanja, 2021, str.190)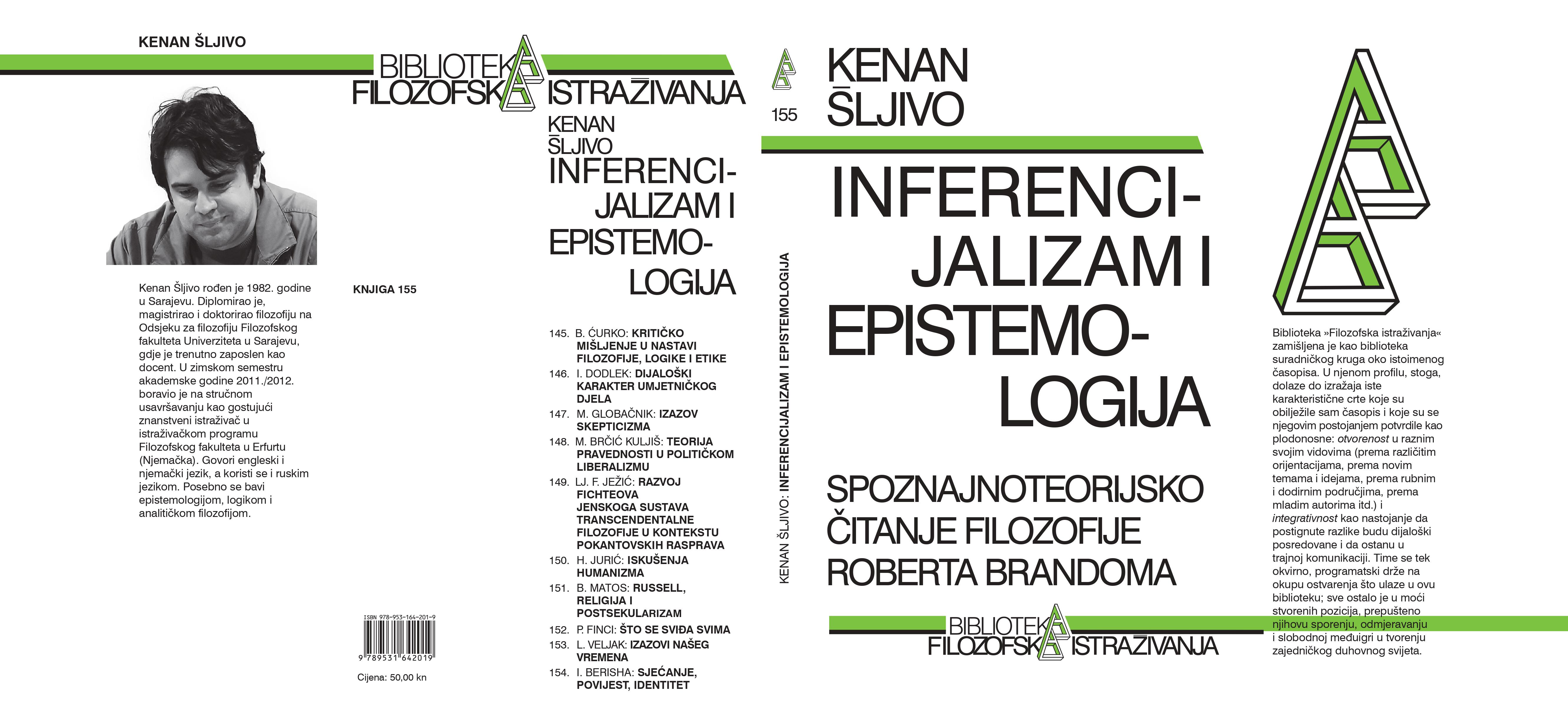 Knjigu možete preuzeti u pdf sa linka ispod
Kenan Šljivo: Inferencijalizam i epistemologija
---
Ivana Seletković
DRUŠTVENA FENOMENOLOGIJA OPERE
( Sarajevo: Academia Analitica – društvo za razvoj logike i analitičke filozofije u BiH – 2021, str.254.)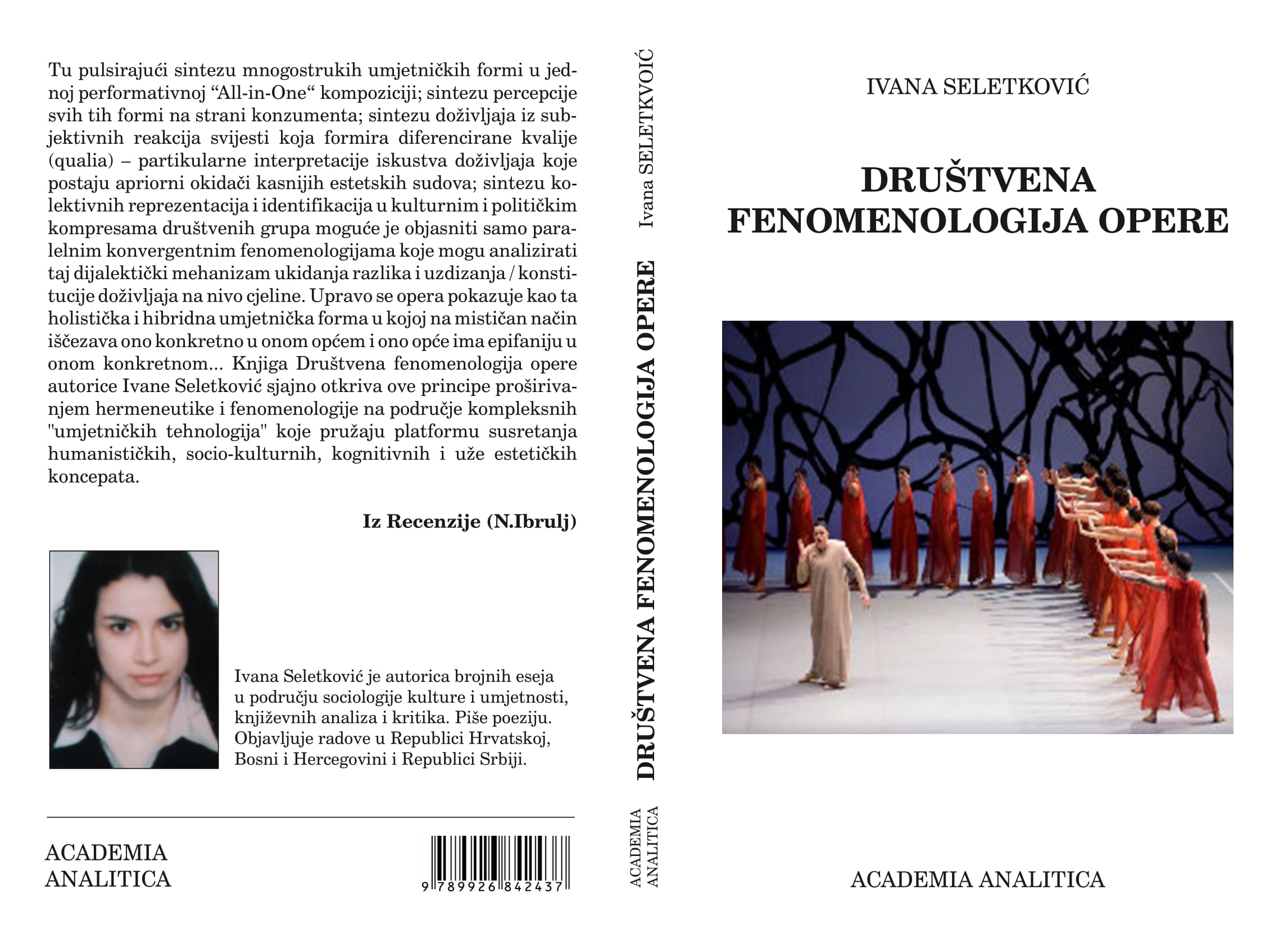 Knjigu možete preuzeti u pdf sa linka ispod
Ivana Seletković – Društvena fenomenologija opere
---
Nijaz Ibrulj
KOMENTARI.RECENZIJE.KRITIKE. 
( Sarajevo: Academia Analitica – društvo za razvoj logike i analitičke filozofije u BiH – 2021, str.219.)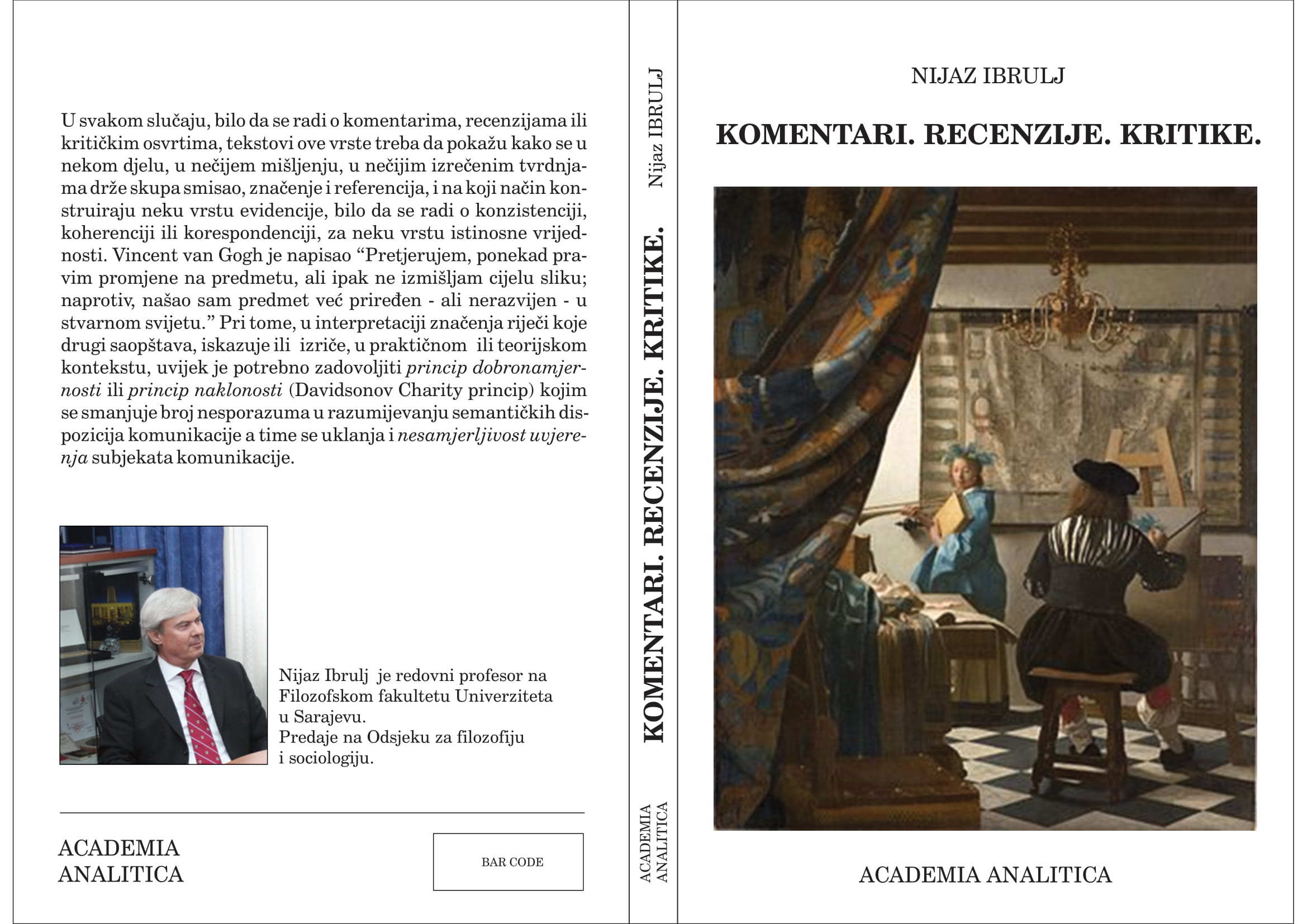 Knjigu možete preuzeti u pdf sa linka ispod
Nijaz Ibrulj – Komentari.Recenzije.Kritike. 2021 e verz
---
Tomislav Tadić
OGLEDI IZ SOCIOLOGIJE RELIGIJE
( Sarajevo: Academia Analitica – društvo za razvoj logike i analitičke filozofije u BiH – 2020, str.204.)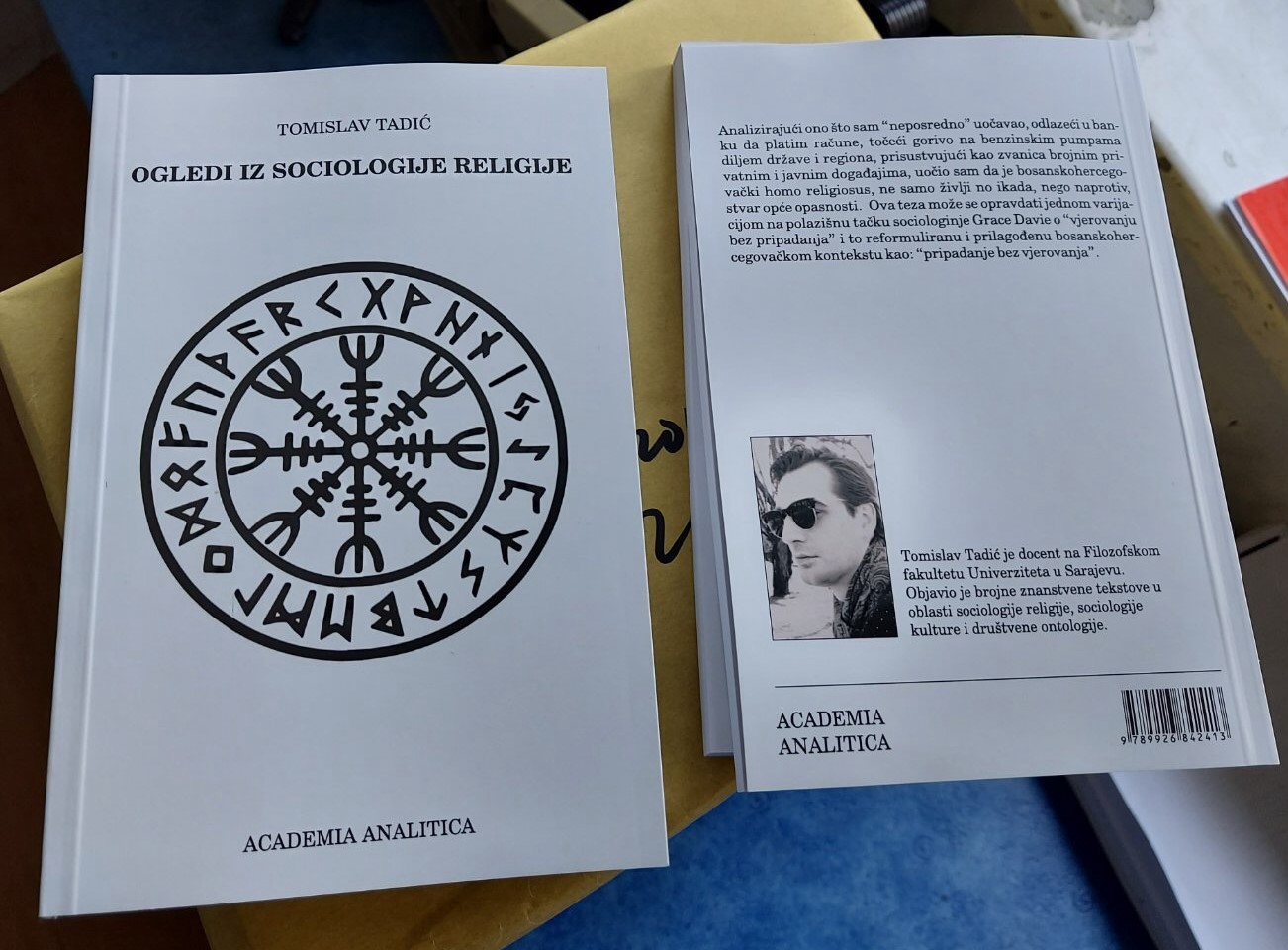 Knjigu možete preuzete u pdf sa linka ispod
---
IZDAVAČKI PLAN BIBLIOTEKE "ANALITICA"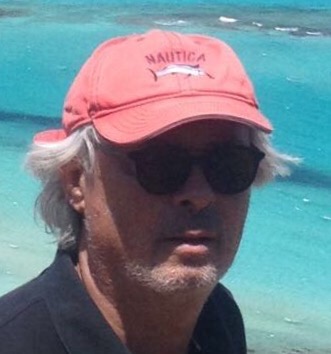 Profesor dr. Nijaz Ibrulj, glavni i odgovorni urednik biblioteke "ANALITICA" koju izdaje ACADEMIA ANALITICA – društvo za razvoj logike i analitičke filozofije u BiH, saopštio je izdavački plan za period 2019. – 2023.
IZDAVAČKI PLAN 2019 – 2023
2019
Vedad Muharemović: SAVREMENOST NACIONALIZMA (objavljeno)
2020
Tomislav Tadić: OGLEDI IZ SOCIOLOGIJE RELIGIJE ( objavljeno)
2021
Nijaz Ibrulj: KOMENTARI.RECENZIJE.KRITIKE.
(objavljeno)
Ivana Seletković: DRUŠTVENA FENOMENOLOGIJA OPERE (objavljeno)
Tomislav Tadić: ECCLESIA LEVIATHANA. SOCIOGENEZA KONVERGENTNIH POLITIČKIH RELIGIJA (objavljeno)
2022
Nijaz Ibrulj: ANALITIČKA FILOZOFIJA-IZABRANI TEKSTOVI (objavljeno)
Nijaz Ibrulj: ESSAYS ON THE LOGICAL (objavljeno)
Jelena Gaković: DRUŠTVENA ARHITEKTONIKA DIGITALNOG DOBA (objavljeno)
Nijaz Ibrulj: COGITATIO HUMANA – FILOZOFIJA KOGNITIVNE ZNANOSTI (u izradi)
Nijaz Ibrulj: SIMBOLIČKA LOGIKA (u izradi)
2023
Nijaz Ibrulj: FILOZOFIJA ANALITIČKE FILOZOFIJE(u izradi)
Kenan Šljivo:  COGITO U MREŽI EPISTEMSKOG KONTEKSTUALIZMA (u izradi)
Nijaz Ibrulj: LOGIKA – TRI STUDIJE (u izradi)
Tatjana Žarković: PROSTORNE PRAKSE I GRAĐANSTVO U KONTEKSTU MIGRACIJA
---

Kenan Šljivo
Sažetak: U ovom se radu analizira koncepcija racionalnosti koju u svom filozofskom učenju razvija Robert Brandom. Radi se o analizi Brandomova pragmatički orijentiranog diskursa koji se odnosi na pitanje racionalnosti iz perspektive čovjekovih jezičnih praksi, gdje se tek u susretu s drugim pripadnicima određene jezične zajednice manifestiraju oni aspekti ljudske prirode koje možemo označiti terminom racionalnost. Ono što čini središnji dio ovog rada odnosi se na Brandomov normativni idiom koji on postulira kao onaj koji je eksplanatorno najpodobniji za razumijevanje jezičnih praksi i na njima zasnovane ideje racionalnosti.
---

ZBIRKA POEZIJE IVANE SELETKOVIĆ
U izdanju Digitalne knjige Zagreb objavljeno je dvojezično (hrvatsko-englesko) elektronsko izdanje zbirke poezije DLANOVI ZNOJNI OD ČEKANJA / THE PALMS SWEATY OF WAITING autorice Ivane Seletković , članice društva Academia Analitica. Zbirka će imati i svoje tiskano izdanje (u pripremi). Kolegici Ivani Seletković čestitamo od srca i želimo da svoju novu knjigu uskoro objavi u izdanju društva Academia Analitica!
Informaciju o knjizi možete naći na linku
https://digitalne-knjige.com/?p=12745
Knjigu možete preuzeti sa linka
http://www.digitalne-knjige.com/seletkovic.php

---
THE MEMBERSHIP IN INTERNATIONAL EDITORIAL BOARDS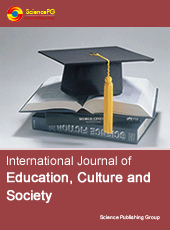 The member of Academia Analitica  Dr.Sc. Ivana Seletković is recognized as a certified member of the Editorial Board of the International Journal of Education, Culture and Society (IJECS). Her published works in the field of social phenomenology of opera in the indexed journal SOPHOS prompted IJECS to send her a request to accept membership in the editorial board of this journal. Congratulations to our colleague Ivana on this important and useful engagement!
CERTIFICATE OF EDITORIAL BOARD MEMBERSHIP
---
Nijaz Ibrulj
---
PREMINUO AKADEMIK PROF.DR. MUHAMED FILIPOVIĆ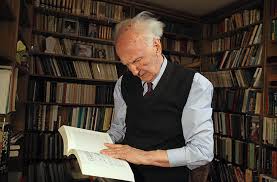 https://www.anubih.ba/index.php/bs/arhiva-vijesti/471-obavijest-o-smrti-akademika-muhameda-filipovica
---

Vedad Muharemović
SAVREMENOST NACIONALIZMA
( Sarajevo: Academia Analitica – društvo za razvoj logike i analitičke filozofije u BiH – 2019, str.220.)
---
https://e-knjige.ff.uni-lj.si/znanstvena-zalozba/catalog/book/153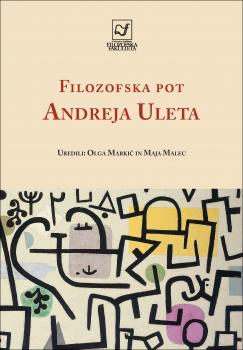 Nijaz Ibrulj
V besedilu, ki je posvečeno slovenskemu filozofu in logiku, univerzitetnemu profesorju in piscu znanstvenih del Andreju Uletu, izkazujem spoštovanje ob njegovem visokem jubileju in priznanje za njegov ogromni prispevek h komunikacijski skupnosti filozofov in znanstvenikov v evropskem okolju ter za uspešno dolgoletno sodelovanje pri razvoju filozofske in znanstvene misli v Bosni in Hercegovini. Na eni strani navajam ključna vprašanja sodobne filozofije in logike, sodobne družbe in tehnologije, ki so zaznamovala delo Andreja Uleta, po drugi pa v članek umeščam sekvence iz filozofskega življenja v Bosni in Hercegovini, in sicer zaradi vpliva, ki ga je Andrej Ule kot človek in kot filozofski mislec, cenjen v širši regiji, imel oziroma ga še vedno ima.
Ključne besede: Andrej Ule, Sarajevo, filozofija, logika, družba, znanje
---
https://www.peterlang.com/view/product/78172?rskey=fq6nfW&result=3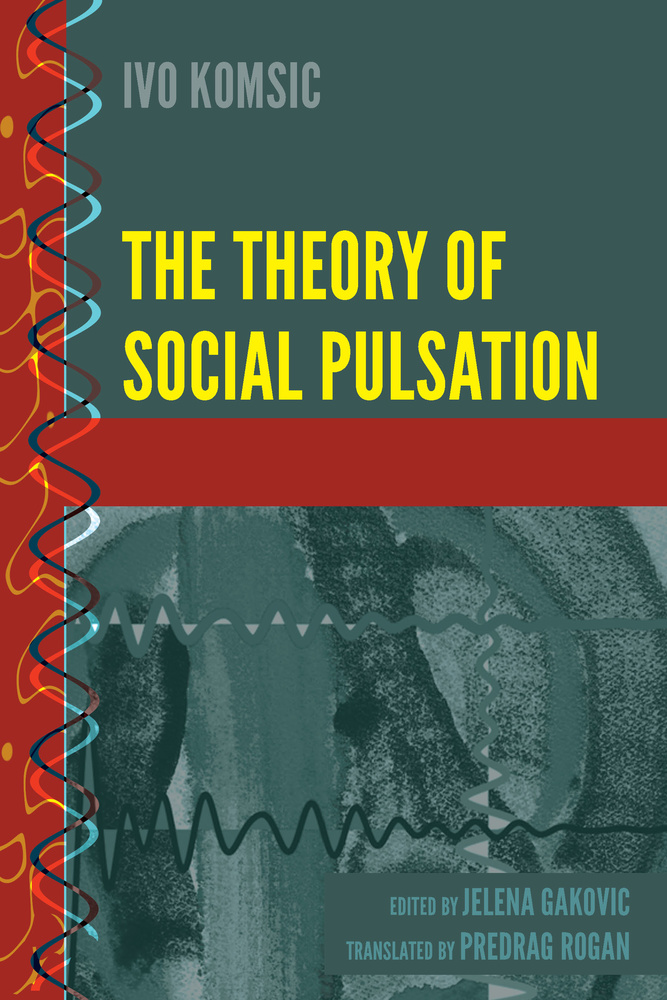 ---
Causality in relations between the social actors does not have the same degree of uniformity, equivalency and necessity like relations in natural processes. Argumentation in discourse of social actors does not have apodictic and axiomatic starting points but is based on dialectical syllogism, respectively on anomalous inferentialism, where truth value of statements is not just factual or just logical / syntactical but more linguistical and semantical, probabilistic and possibilistic. For  the understanding  of anomalous causality in social relations, processes, and states of affairs, same as informal anomalous argumentation, the author proposes  the construction of one projective semantics of social relations that has possibility of fuzzyfication of linguistics variables, computing with words, and projecting semantical sequences of meaningful information.  Therefore the author suggests possibility of development of one projective sociology for modeling of forms of the social inferentialism.
---
SOME INSIGHTS ON GELLNER'S CONSTRUCTION OF MODERN NATION AND POSITION OF IMMANENT NATIONALISM
This paper focuses on the analysis of Gellner modernist theory of nationalism and its orientation towards specific components that are generated during the period of European modernism which enabled the construction of the nation as a socio-political constructs of that time. What will be shown is that Gellner's conception of nationalism cannot be interpreted in the context of the discussion about "battered metaphors" which lost its use value in the era of modern social organizations, and that nationalism is not merely an instrumental activity which becomes meaningless after the completion of the process of creating homogeneous national states. The paper aims to show how Gellner's insights and methods of objectifying the nationalist project in the era of modernity can be read as a useful matrix of immanent nationalism as a broader socio-cultural and sociopolitical phenomenon that shapes the national states, multi-national communities, "super-nations" and other state entities of the contemporary world. Key words: modernism, nationalism, immanent nationalism, high culture
---
HANS MOL'S SOCIOLOGY OF RELIGION: REFLECTIONS ON THE RELATIONSHIP BETWEEN THE IDENTITY AND THE SACRED
The paper explicates Hans Mol's basic principles of identity theory of religion focusing on the relationship of the central theoretical concepts in the context of his sociology of religion – concept based on observing the relation between social production of the structure of the identity and the sacred. It is shown that religion for Hans Mola is understandable and determinable from the perspective of "mechanism of sacralization of the identity" specifying each of its constituent elements. The paper positions the role that Hans Mol took up on the debate about the secularization of the sixties and seventies from which certain conclusions can be made that the debate had the famous "theoretical logic of sociology" (Jeffrey C. Alexander). Among other things, the paper discusses also the authentic consequences of the "identity theory of religion" which are expressed in the form of sacralization of any scientific or political discourse. This paper is structured from introduction, three chapters and conclusion.
See also in: 
---
KRITISCHE PHILOSOPHIE DES GEISTES  
Danas se ljudske spoznajne moći istražuju unutar filozofije duha. Kritika se ne usmjerava ka njenom cilju postizanja jedne šire klasifikacije, to jest "teorije" naših duhovnih kapaciteta. No, ukoliko je čitamo između redova (Kritiku), nalazimo brojne osnove za jednu transcendentalnu psihologiju čija je spoznajnoteorijska strana često zanemarivana. Ona je sve drugo osim jedne, kako to Strawson (1966) na čudan način kategorički tvrdi, fantomske znanosti. Sam program Kritike usmjerava filozofiju duha u jednom osobitom pravcu; ona (Kritika) zahtijeva da se ova (filozofija duha) usmjeri, a ne da to direktno i bude, u pravcu jedne kritike spoznaje.Protiv jednog novijeg pokušaja da se Kritika čita kao direktan doprinos d anašnjoj kognitivnoj znanosti (Brook) je metodološka provalija koja dijeli jednu transcendentalnu od jedne empirijski dokazive teorije. Ovdje nije odlučujuće to što Kant današnje znanosti koje proučavaju kogniciju nije poznavao, već to što one, neurofiziologija, psiholingvistika i računarska znanost, postavljaju empirijska umjesto transcendentalnih pitanja. Zato i ne čudi da Kantova glavna teza u filozofiji duha, naime teza transcendentalnog idealizma, kod Brooka igra samo jednu sporednu ulogi. (…)
---
https://rowman.com/isbn/9780761858911
Logic in Bosnia and Herzegovina
trough centuries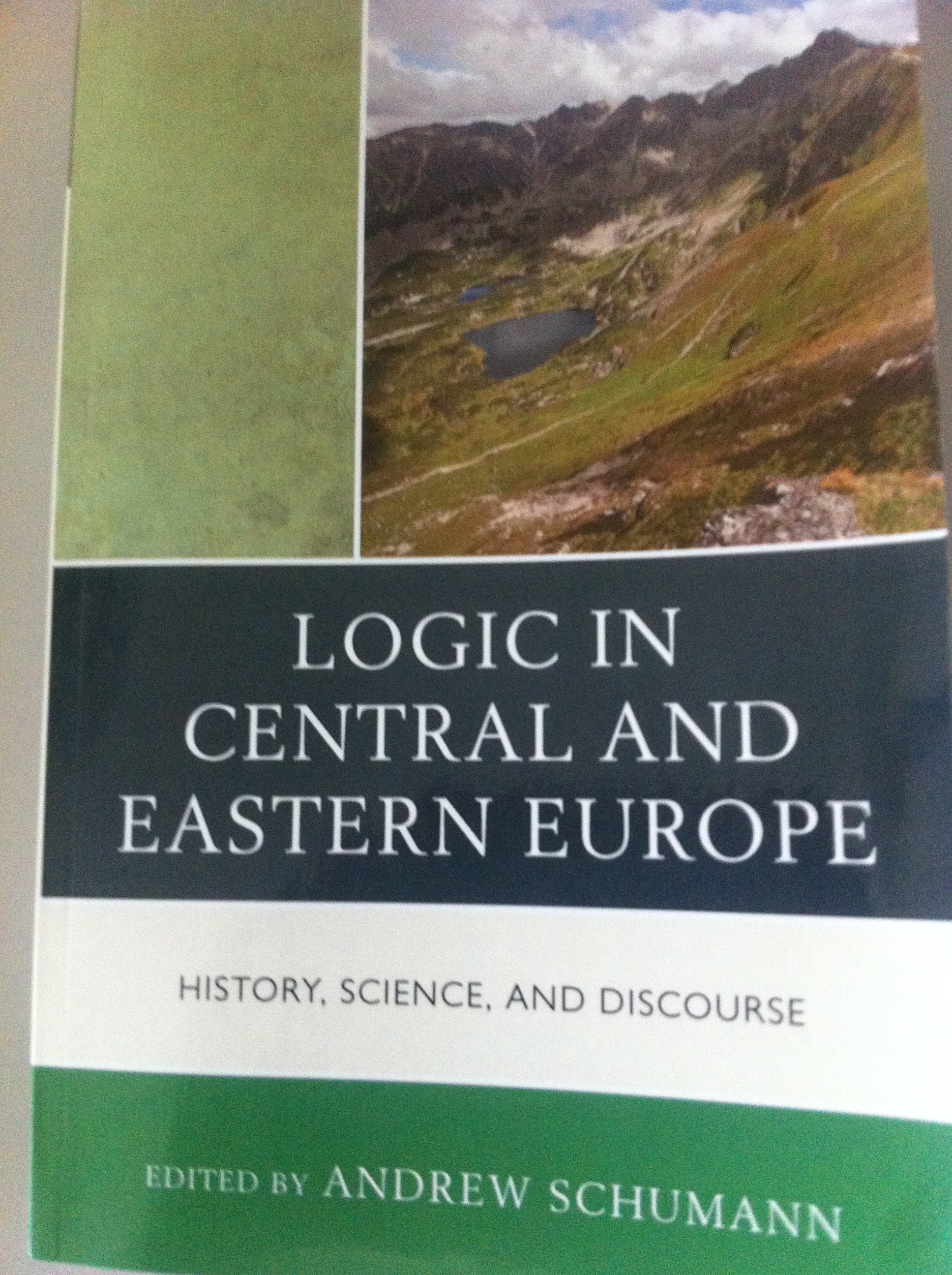 In the new article written by Professor Nijaz Ibrulj: BOSNIA PORPHYRIANA – An Outline of the Development of Logic in Bosnia and Herzegovina (University Press of America 2013. Edited by Andrew Schumann): Which authors wrote logical books and articles in Bosnia and Herzegovina starting from 16th century? Which works are written in Arabic, Latin and Bosnian language? What impact had Aristotelian Logic and Porphyrian Isagogics on the development of modern theological and scientific thought? Why was burned every copy of Porphyries' book Against Christians (Adversus Christianos) by Theodosius II in 435 and again in 448 ? Why St. Augustine said in the book De Civitate Dei that Porphyrius was "most intelligent of philosophers, but worst enemy of Christians" ? What impact had Greek commentators on the Latin, Arab, and Bosnian commentators of Aristotle and Porphyrius? Why is today translated Porphyries' article Eisagoge / Isagoge from the ancient Greek to Bosnian language?
---
STUDIA HUMANA
Studia humana (SH) is a multi-disciplinary peer reviewed journal publishing valuable contributions on any aspect of human sciences such as… ANALYTIC PHILOSOPHY AND PHILOSOPHICAL LOGIC related to universal features of epistemology, philosophy of science, foundations and methodology of physics, philosophy of religion, philosophy of mind, praxeology, non-classical …
---
Visits:40